Eye Clinic
Eye exams are professional screenings used to evaluate the health of the eye and diagnose vision impairments and disease.
Each is comprised of a series of several tests that analyze various functions of the eye, such as colour differentiation, distance vision, and peripheral awareness.
A comprehensive eye exam can identify vision complications during their earliest stages, providing eye doctors with the opportunity to treat them more easily.
A comprehensive eye exam will consist of:
Visual acuity testing to measure the clarity of your sight
Refractive evaluation to diagnose refractive errors
Visual field testing to measure your peripheral vision
Colour vision analysis to identify an inability to distinguish certain colours
Examination of the back of your eye, retina, and underlying blood vessels
Glaucoma testing to measure intraocular fluid pressure
Eye muscle testing to identify weak eye movements
Corneal exam to evaluate the health of the cornea, iris, lens and surrounding tissue
Did you know…
that a periodic eye exam can reveal underlying health issues long before other symptoms are present?
In addition to identifying vision complications and eye disease, a comprehensive eye examination can also reveal conditions like high blood pressure, diabetes, or even a brain tumor.
We recommend that adults under age 60 undergo an eye exam at least once every two years. At-risk patients and patients over age 60 should get an eye exam annually.
Frequently Asked Questions
I'm healthy and can see clearly. Do I need an eye exam?
Yes. Eye examinations can reveal much more than vision impairments – they can save lives.
If you haven't had an eye exam in the past 12 to 24 months, contact your Ophthalmic Suites eye doctor to schedule an appointment.
What should I expect during my eye examination?
Your eye exam will take approximately half an hour and will include a series of tests using advanced optometric machinery.
You will also be asked about your medical history and any vision complications you may be experiencing.
Eye exams typically do not hurt, but you can expect to look into bright lights or have air blown into your eyes during your visit.
What should I expect following my appointment?
If you are given a clean bill of health with no vision impairments, you can return to your normal activities and plan to visit your Ophthalmic Suites eye doctor again in one to two years.
If you are found to have refractive errors, you may be given a prescription for corrective lenses.
In cases where the disease is present, you may be referred to a vision or medical specialist for further treatment.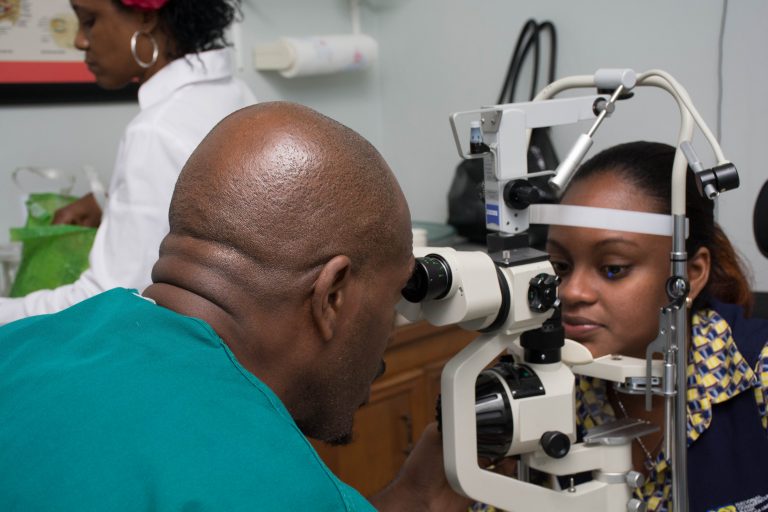 DIAGNOSTICS SUITE
OCT –Optical Coherence Tomography
optical coherence tomography A method of imaging that, in ophthalmology, uses light waves to provide cross-sectional views of interior eye structures. Also known as OCT.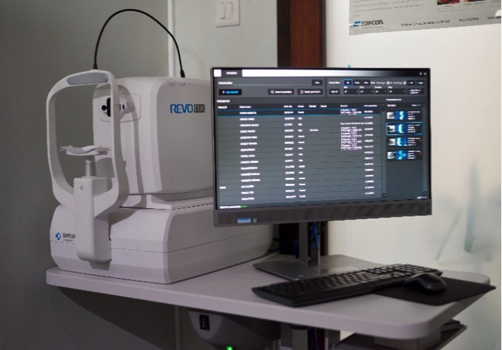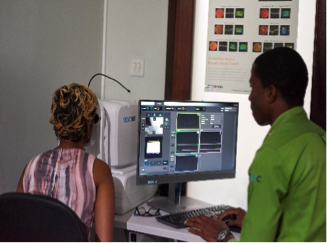 OPTIC NERVE (OCT RESULTS FOR BOTH EYES)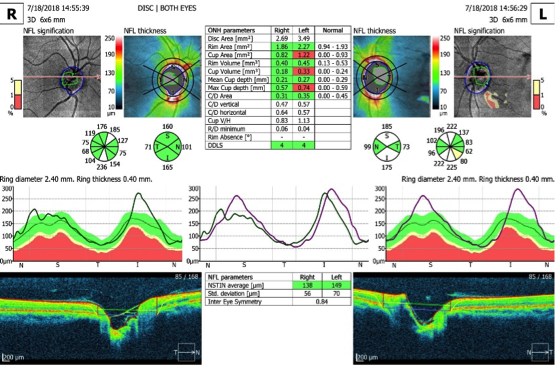 OCT is useful in diagnosing many eye conditions, including:
macular hole
macular pucker
macular edema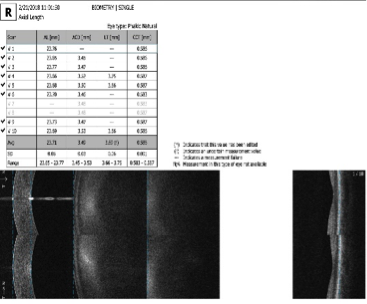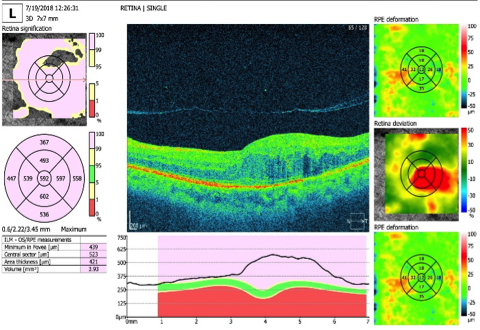 GANGLION BOTH EYES (OCT RESULTS)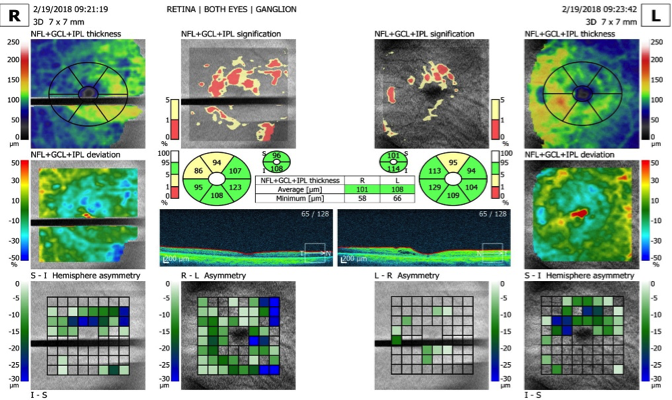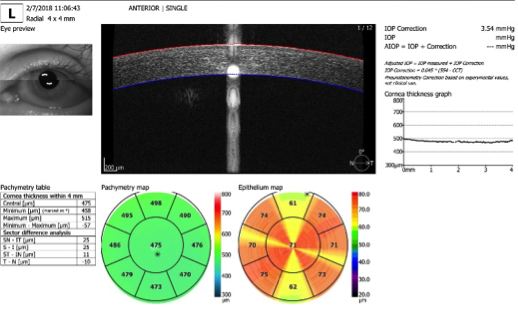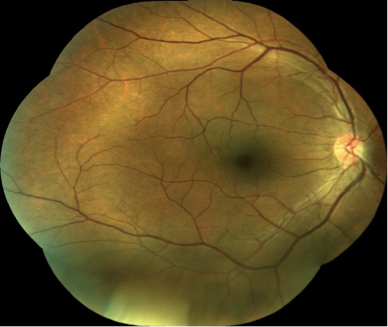 OCT – ANGIOGRAPHY RESULTS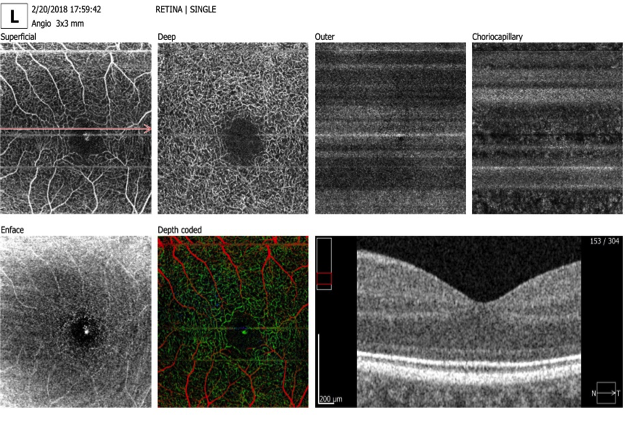 AUTOMATED PERIMETRY (VISUAL FIELD
Visual field tests are performed by eye care professionals to detect blind spots (scotomas) and other visual field defects, which can be an early sign of these problems.
Its user friendly
Quicker to detect
Straight forward
VISUAL FIELD LEFT EYE RESULTS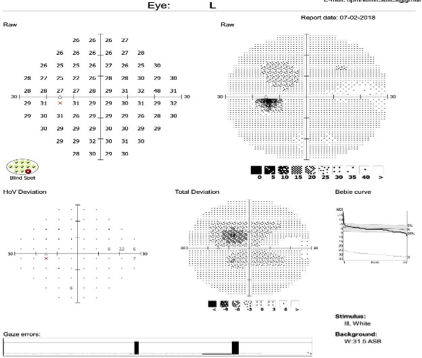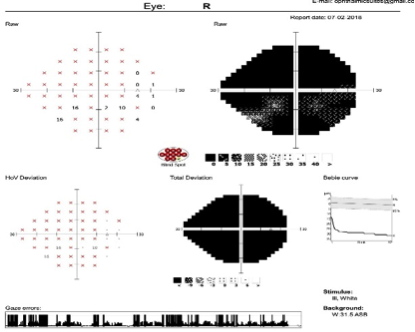 VISUAL FIELD MACHINE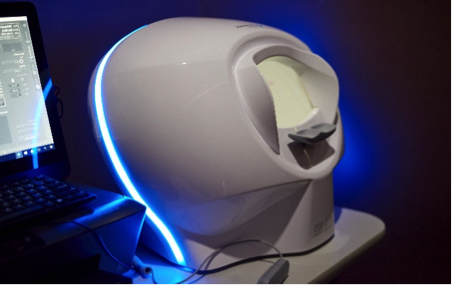 TOPOGRAPHY
This procedure uses detailed measurements of the surface of the cornea to program the laser to address vision problems caused by corneal irregularities (including corneal scars) in addition to refractive errors.
TOPOGRAPHY LEFT EYE RESULT